The Location
This is pretty much as central as you can get without pitching your tent in Princes Street gardens!
Within 500m walk you have about 20 pubs, numerous restaurants, 3 banks, a supermarket, two grocery shops, a cinema, two shopping malls (and of course the Princes Street shopping precinct, including Jenners!)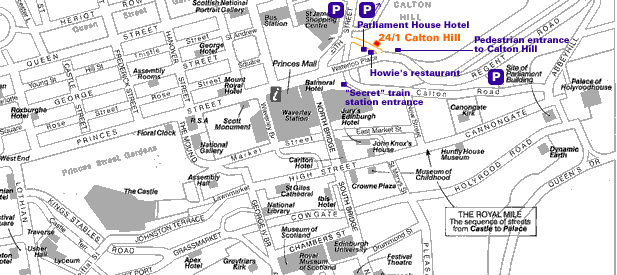 The tiny road 'Calton Hill' is not marked on many maps of Edinburgh. Even some taxi drivers don't know it! It comes off Waterloo Place at Howie's Restaurant - you can tell taxi drivers to take you to the Parliament House Hotel (across the street).
When you arrive, go up the stone steps to the door marked 24, and ring the buzzer for the first floor flat (labeled"Howell") (unless you have made other arrangements for key collection)
To access Calton Hill proper, there is an entrance along Waterloo Place -- just go back down the stairs leading up to the flat, and take a left.
Being city centre, parking is not that great. There are two paid car parks very close by - one at the St James Centre, and one just down Leith Walk as part of the large cinema complex. There is also 'pay and display' parking on Regent Road (but watch your time - the traffic wardens are notorious in Edinburgh!)
You can park temporarily in front of the flat to load/unload, and parking regulations are not enforced on Sundays.