Self-catering & Cooking at the flat
While Edinburgh is full of great restaurants and eating, one of the advantages of going 'self catering' is that you have the option of eating in.
This is a great flat for entertaining in, or just whipping up a luxurious breakfast for you and your crew.
There are a lot of stores nearby (walking distance) to get your supplies from:
Sainsburys - on St Andrew Square. Good for general stuff - is one of their 'express' stores
Marks & Spencers food hall - Usual use the entrance from Rose Street. Lots of good quality if slightly expensive
Jenners Food Hall - also on Rose Street. For the exotic and uppermost quality
Tesco - is about a 25 minute walk down to Canonmills -- take a taxi with your shopping back. Better yet, use their

online store

and have it delivered!
Valvona and Crolla - about a 10 minute walk, on Elm Row past the multiplex cinema, is the Mecca of Italian delicatessens in the UK. Shop here if you want to impress. See

http://www.valvonacrolla.co.uk/

Broughton Street, just down hill and across the big roundabout is home to numerous small shops, including one of the UK's best butchers, Crombies -- a *must* for sausage connoisseurs! The street also boasts a great fishmonger, a branch of Real Foods, an Oddbins and the even better Ville Neuve Wines, and the excellent London Street Grocery at the bottom of Brought St which has some of the freshest produce in Edinburgh.
There is also a small grocery store on Waterloo Place with some essentials.
If you've never cooked on a cast-iron cooker such as the Rayburn (like an Aga) then you are in for a treat, but you need to learn a few tricks.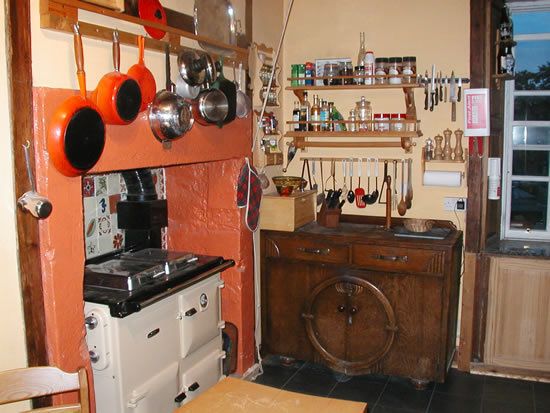 There is a cookbook and some instructions on how to use the cooker in the kitchen shelves; a couple of things to be aware of:
The cooker is always on. That means there is always a low heat coming from it -- great for keeping the hot water hot, drying clothes and warming food. Never turn the 'cooker' knob to 'off', you will lose your hot water!
If you just want to warm up some coffee, tea or milk, just put it on a saucepan on the hob. A few minutes later voila! Almost as fast as the microwave. Remember, the hob is hotter to the left (as you face it) than to the right. Reheating cold pizza, curry (nan bread!)? Just pop it into the oven for 10 minutes. Freshen stale bread by spraying water on it and putting into the warm oven -- almost better than fresh! Make toast by putting the bread directly on the hob. Comes out better than the toaster!
For serious cooking, you need to pre-heat the oven for about 30 minutes -- see the temperature gauge. Get up in the morning, turn the oven on, take a shower and then cook a serious fry-up! Yumm!